How ocd.app helps you deal with OCD
The app is based on the core principles of CBT. While not being a "therapy" or "treatment" in itself, It directly targets the person's thought patterns.
Break negative thinking habits, embrace positive change and explore over 1000+ exercises.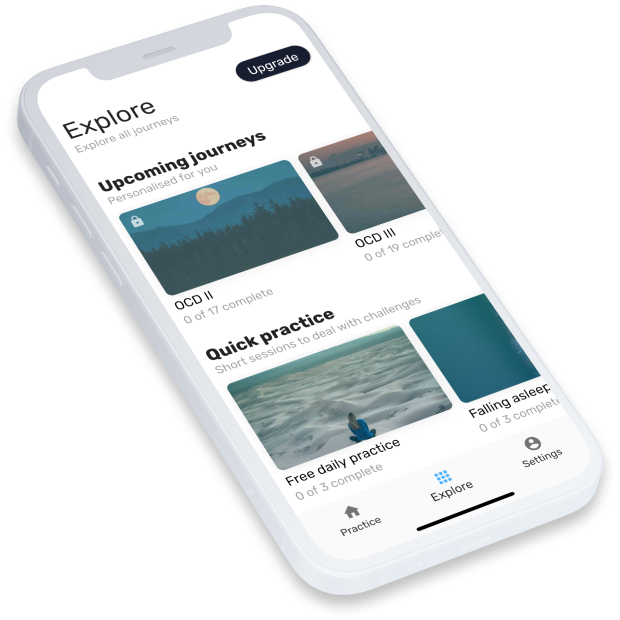 The app features:
Increase awareness of negative, maladaptive thoughts common among people suffering from OCD
Learn to generate alternative thinking patterns
Daily exercises that evolve and personalize based on your specific goals and condition
Interactions and games that assist in creating and maintaining healthy thinking habits
Self assessments to personalize the app based on your condition
Mood and supportive thinking tracker to help you track your progress
Exploration of additional mental health topics, such as anxiety, depression, body image, perfectionism and more.
Research has shown that using the app for at least 14 days can build supportive thinking, reduce maladaptive beliefs and increase resilience.
Similarly to CBT, these effects are proven to be lasting. In one study, using the app for 14 days has built resilience that lasted for at least 30 days, even without using the app after the initial 14 days.
Self assessment
Embracing and believing in change
Cope with threat
Module #2
OCD III (Advanced)
Uncertainty
Perfectionism
Confidence in memory
Module #3
OCD III (Expert)
Fear of contamination
Fear of harm
Fear of abandonment and trusting
We created an easy to download and use app that utilizes the latest mobile and big data technology.
Download the app
Complete the tutorial. It will guide you through the main principles of the app.
Personalize based on your goals, age and gender
Form a healthy habit by training daily
Important! Don't use the app when you have compulsions. The app should not be used to seek reassurances in times of need. Instead, use it first thing in the morning or before going to bed
When you gain confidence, improve your access to helpful thinking and acquire supportive thinking patterns, you can keep using the app on a regular basis – for example twice a week
Tell us about your story, and share your success with others
Self assessment
Embracing and believing in change
Cope with threat
Module #2
Relationship OCD
Fear of thoughts
Distrust
Embarrassment
Belief in change
Dangerous world
Self-trust
Attachment anxiety