OCD.app is the world's most researched app for self-management of OCD and other mental health conditions such as Anxiety, PTSD, Depression and Body image preoccupation.
With 15 publications, the app's profound impact on people's ability to improve their mental health by using an easy to use app on their device is well proven and documented.
Our vision is to improve people's daily lives by providing research-backed tools that increase supportive thinking and promote wellness.
Our main goal is to create the most effective, quick and easy to use apps for people dealing with mental challenges.
2017 – Initial launch. The app has already helped thousands of people dealing with OCD practice, learn and improve.
2020 – Upgraded version, including not only all the OCD journeys, but also 500+ more exercises covering many aspects of mental health.
The scientists behind the app
The team working on and researching the platform is growing every day. We now have more than 7 academic publications, in multiple universities and colleges across the world.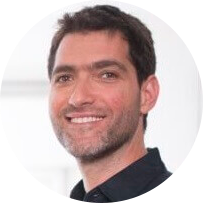 Dr. Guy Doron
Psychologist and researcher
I am a CBT clinical psychologist, OCD specialist and digital health expert.
I made this app so I can help as many people as I can deal with OCD in an easy and affordable way.
You can read more about my publications and research on ROCD.net website